BatB Stories Written By Wendy Tunnard de-Veryard
Find me on Facebook for news of non BatB stories to be published at Amazon.co.uk, and to talk to me. Go to:
GHOST WRITER
Please donate to help us save Sparky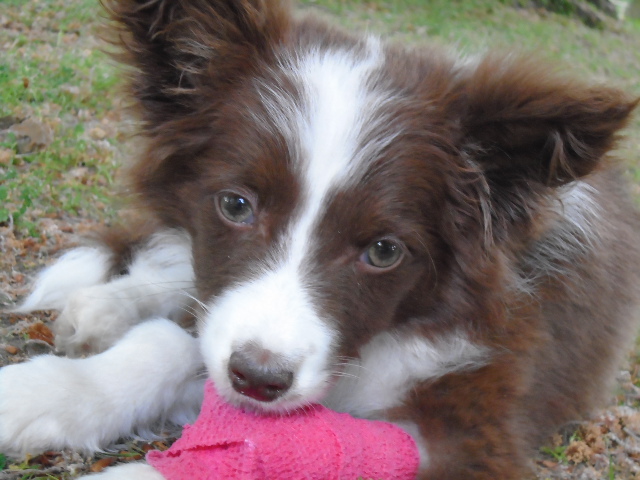 Story by Gemma Fisk of Fisk Literary Services - UK
On January 25th 2018, Sparky was born third of five puppies and he alone was covered in emerald green mucus that stained his white fur for some weeks. He was no smaller than his siblings, they were all a good size thus he was not a runt. Meggie, his mother fed and washed him and all puppies were doing well until day 4 when Meggie rejected the green stained puppy and pushed him away from his siblings to where he lay frozen to one side of the basket.
When Wendy Tunnard de Veryard found him, she picked him up, and believing he had died suddenly heard him whimper. Wendy quickly rubbed him vigorously with her hands praying earnestly for his survival, named him Sparky due to the tiny spark of life still within him, then she placed him in a cardboard box on towels with a Microwave Hottie beneath them and placed the box alongside the wood stove where it was warmest. Wendy knew the first thing that had to be done was to thaw him out. He was frozen through to the bone. She checked his temperature constantly over four hours until he was finally warm enough to crawl around the box seeking his mother's milk. Iver the next weeks Wendy hand reared him back to health.
All the same Sparky grew very, very slowly and at week 14 only weighed 1.97 kilos! By week 19 he was happily eating one bowl of True Instinct puppy kibble a day and he had abandoned the milk and was drinking water like there was no tomorrow. Nevertheless he is a happy little puppy, plays well, is obedient, loving, sweet, and has ears that maybe someday he will grow into.
By week 19 Sparky weighed just 2.25 kilos and was just fur and bone, no puppy fat, no muscle, just a bony puppy beneath a mountain of fur, and on Saturday May 19th Wendy noticed that Sparky had not drunk any water since his Friday tea time. It was a mystery.
The vet did a scan and an X-ray and tried to take blood to see if Sparky had a Portosystemic Liver shunt but Sparky's body is so tiny that taking any amount of blood could be too much blood for one so small, not only that his veins are so thin that taking blood is nigh impossible and so the vet attempted to take it from Sparky's jugular but when he did the blood just spurted without let up and the vet panicked thinking poor Sparky could bleed out in next to no time, for the blood was not clotting to stop the flow. Finally, they managed it, thankfully.
Over the next few days, and on a drip, Sparky remained perky despite the numerous tests to see what was wrong with him, and when Wendy visited bringing Sparky's "teddy" that he had snuggled with since 4 days old and Sparky grabbed it and started throwing it around the pen before settling down and resting his head on it to sleep. Sparky loves that teddy he has had it with him since he was 4 days old.
It appeared that Sparky was responding to the immense amount of pain killers being pumped into him and he started eating really well, more than Wendy had ever known him to eat, and everyone wondered if an inflamed pancreas had been the problem all along. He was also drinking lots of water again, and everyone noticed gleefully how Sparky would hang one paw in the water bowl to keep cool. He is an intelligent little boy.
Suddenly when it appeared everything was going well, Sparky got severe pain in his abdomen again, and the vet did another scan of his liver and found it to be elevated to massive proportions with nodular like bumps all over it, and the vet did not know what to make of this and suggested that Sparky was admitted to the Animal Health Trust at Newmarket for an MRI scan.
Wendy took Sparky there on May 22nd and this is where we are up to. It appears that although there is still an underlying problem yet to be discovered, Sparky may have diabetes and is going to be given some insulin today May 23rd, and this would make sense as to the elevated liver and pancreas, although the vet has never known a case where a puppy is born with diabetes.
To date the vet bill has amounted to over 5000 GB pounds + VAT with the possibility of another 1500 GB pounds if Sparky needs an MRI scan and a further untold figure should he require surgery.
If Sparky had not been such a perky little fellow that has touched so many lives by his loving personality and had not generated so much love to and from people in his short life so far, maybe euthanasia would have been the only option, but he is all of those things, and he deserves to live. He has defied all the odds, he is funny he is loving and he rushes to protect Wendy every time another dog comes near her. She is his mum and he may be small but you can see it in his eyes that he would readily protect her to save her life. All she wants to do is to save his. Wendy believes that the world is a better place with Sparky in it. Most of all Sparky is owed a life simply for being the little bright spark that lights up the hearts of everyone that meets him.
The vets are doing all they can and they have to charge for their work and the medications but the colossal bill is too much for one person, and just a few accumulative donated pounds and pennies by many people could go a long way to help pay some of the bill. Please help us raise funds to save Sparky.
Thank you.
Gemma, Wendy and Sparky
FUNDRAISER -
https://www.justgiving.com/crowdfunding/savesparky